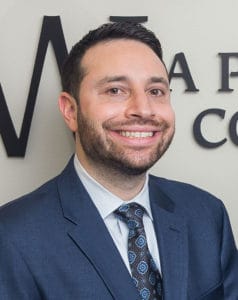 Attorney Benjamin (Benji) Rubin, Brian's youngest son, Mitchell's "little/big" brother, graduated from the University of Illinois College of Law, Magna Cum Laude, received his undergraduate degree from Northwestern University, and currently is pursuing his Graduate Law Degree, an LLM (Tax), at Northwestern University. Benji, a partner in the law firm, joined the practice in 2010.
Benji is a member of the Academy of Special Needs Planners, a member of the Special Needs Alliance, is Vice Chairman of the American Bar Association Special Needs Planning Committee, serves as the President of SIBS (Supporting Illinois Brothers and Sisters), the Illinois chapter of the national Sibling Leadership Network, is a member of the Board of Directors of The Arc of Illinois, is a member of the Clearbrook Associate Board, serves on the Board of Directors of DayOne Pact, the Independent Service Coordination Agent for individuals with intellectual and/or developmental disabilities living in DuPage, Kane and Kendall Counties Illinois, as well as serves as Trustee of Special Needs Trusts, and serves as Guardian, serves on the Advisory Council of Encompass (Encompass in partnership with Jewish Child & Family Services, Jewish United Fund, JVS Chicago, JCC Chicago, Keshet, and The Center for Enriched Living and Center for Independent Futures, seeks to provide adults with I/DD a full array of financially sustainable, community-based services and supports), and is a member of the Board of Directors of the SEDOL (Special Education District of Lake County) Foundation. Benji is also a Faculty Member for the Illinois Institute for Continuing Legal Education (IICLE).
Having Mitchell as a brother profoundly shaped who Benji is today, and thus the type of law he chose to practice. His personal experiences as a sibling offer a unique perspective into the responsibilities that come with caring for a sibling with special needs. Now, as an adult, those sometimes present and future responsibilities he will have regarding his brother's care are a concern that he shares with all brothers and sisters of individuals with special needs.
Please click on the "Calendar of Events" tab for a list of where Brian and Benjamin, will be speaking in the future, and where they have lectured in the past.