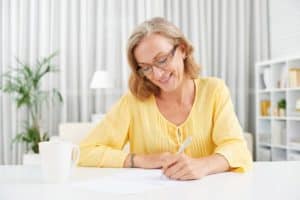 Advocates for people with special needs often talk about writing a "letter of intent" for your family member's care. What exactly is a letter of intent? What should you include in your letter? Here are a few suggestions. Every letter of intent is different, so your letter may include more or less information than suggested below
A letter of intent, also called a letter of instruction, accompanies the legal documents that are part of your family's future planning for a child with special needs. It communicates to a guardian, trustee, or future caregiver things that only family members know about your child, such as his likes and dislikes, routines, emotional needs, quirks, specific doctors or services that have helped him, and more. It may communicate parents' wishes and hopes for their child. The letter lays out a life history and future plan for the child with special needs, and so its content usually is broad and detailed.
You should include your child with special needs' medical history, such as current medications and therapies, current doctors and clinics, allergies and sensitivities, diagnoses and undiagnosed conditions, and which medications have been tried in the past. You will want to include a family history, including information about parents' and siblings' backgrounds; extended family and friends' names, descriptions, and contact information; serious medical conditions of close family members; and information about your family dynamic.
Include educational background of your child, especially if he or she is in school when you write the letter. Does the child have educational goals, special interests, extracurricular activities, or areas of focus with teachers? Discipline problems or specific teachers who have helped him or her? Talk about your child's employment or potential employment, as well as mentors, employment counselors, friends, or others who know him. The personal relationships that your child has with others will not always be obvious to a potential guardian.
The letter should include social, religious, behavioral, and financial information about your child. Who are your child's friends or daily acquaintances? Does he or she attend church? What about interaction in social situations, playing sports, or other daily activities? Spare no detail in describing your child's life.
Sometimes it may be helpful to walk the letter's recipient through a day in the life of your child. Detail any residential or personal care items that your child needs, such as help brushing his teeth or medication reminders. Does your child like to cook but need supervision near the stove? Is your child picky about certain foods or needs a special diet? Note these things in the letter.
Letters of intent are very personal, are often very conversational in tone, and can be very helpful for future caregivers. Be detailed. As your child ages, update the letter of intent as needed to reflect as current of information as possible – especially if your child has a new medical regime, changes schools or turns 18, or has other major life changes. The same is true for you – if you or the rest of your family have a major life change like a divorce or move, update the letter along with your other future planning documents.
Finally, a letter of intent is not a "legal" document in that your child's future guardian does not have to follow all of the guidelines and thoughts you express in the letter. Without it, though, the guardian may be missing a crucial piece of information in an emergency or may never know everything that makes your child with special needs unique. Perhaps, most importantly, an executive summary should be done. One to two pages of bullet points that state the information that a caregiver must know immediately even before they have a chance to read the rest of the much more detailed letter of intent. If you would like a form to use as a guide for writing your own letter of intent please email us and we will send you one.
Rubin Law is the only law firm in Illinois exclusively limited to providing compassionate special needs legal and future planning to guide our fellow Illinois families of children and adults with intellectual disabilities, developmental disabilities, or mental illness down the road to peace of mind. For more information, email us at email@rubinlaw.com or call 866-TO-RUBIN.